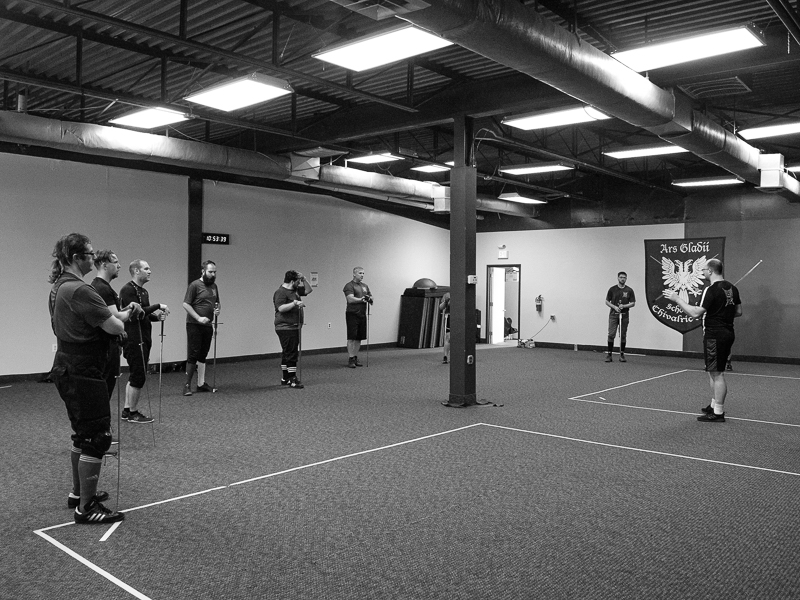 Love swords? Looking for a new challenge? You've come to the right place to learn HEMA/Longsword Fencing in Detroit, MI!
We now have TWO ways to start your training at Ars Gladii:
Quick-Start
Our Quick-Start gets students directly into our beginner-friendly longsword classes (Tuesday or Sunday). After four weeks, Quick Start students roll into our standard class plan. No experience is required. This plan includes a standard fencing mask. Quick-Start costs $149.
The Intro Class:
Curious about what HEMA is or just wanting a sword experience? Try our Into Course! Students will learn the basics of the longsword, including basic strikes, defenses, and footwork. This class culminates in a sparring and test cutting day using padded swords and our cutting trainers. Intro Courses are offered several times throughout the year. Each Intro Course includes a standard fencing mask. Intro Courses run $149.
See below for the available Intro Classes.
Ars Gladii does require all members to be 18 years of age or older.
---
Oct/Nov 2023 Intro Class


October 21, 2023 - November 11, 2023




12:00 pm - 2:00 pm
Curious as to what HEMA is? Always wanted to learn how to sword-fight? Come to the Ars Gladii Intro Class! Over the four-week course, participants will get to handle swords, learn the basics of sword-play, and experience free-sparring and test cutting. Included in the price of the class is a HEMA-rated fencing mask which is (more…)
September 2023 Intro Class


September 9, 2023 - September 30, 2023




12:00 pm - 2:00 pm
Curious as to what HEMA is? Always wanted to learn how to sword-fight? Come to the Ars Gladii Intro Class! Over the four-week course, participants will get to handle swords, learn the basics of sword-play, and experience free-sparring and test cutting. Included in the price of the class is a HEMA-rated fencing mask which is (more…)